Event Details
This evening showcases the talents of America's finest Romani musicians and dancers including Chicago's Chris Bajmakovich (accordion and vocals), New York City's Ismail Lumanovski (clarinet), and the Bay Area's own Rumen "Sali" Shopov (percussion) and Edessa. Sani Rifati teaches traditional Romani dances, and Romani art, handcrafts, CDs, and literature will be available for sale.
International Roma Day (April 8) was officially declared in 1990 in Poland, during the fourth World Romani Congress. Since then Roma around the globe celebrate their social origins, language, culture, unity, and in particular, romipen (preservation of Rom identity) near the date of the original gathering.
The first annual International Roma Day event was held in San Francisco in 2000. In addition to romipen, the goal is to introduce audiences to and provide performing opportunities for renowned Romani performing artists, create a gathering place for Romani and other immigrant and refugee communities, and raise awareness about the human rights issues faced by Roma in today's world. In particular, we focus on education regarding the dire circumstances of the Roma in and from Kosovo.
Featured Artists.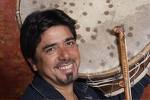 Rumen Shopov hails from Gotse Delchev, a crossroads town in southwest Bulgaria neighboring the borders of Greece and Macedonia. A master of the tambura (long necked mandolin), bouzouki, and an accomplished drummer and vocalist, Shopov was concertmaster of the Nevrokopski Folk Ensemble, Bulgaria's first national folk ensemble, for more than 20 years. He was also lead member of two of the Pirin region's hottest bands: Shturo Make and Orkestar Orbita. In 2002, he toured across America with the Kolev Family Ensemble. His music captures and showcases the sparkling fretwork, incendiary rhythms, and expressive soul of his native Bulgarian/Turkish-Romani musical tradition. Shopov has been artistic consultant to three previous VOR-International Roma Day celebrations.

Ismail Lumanovski was born in Bitola, Macedonia, and began playing the clarinet at age 9. He made his debut in 1998 with the Macedonian Philharmonic, and his US debut in 2002 as the principal clarinetist with the World Youth Symphony Orchestra at Interlochen Arts Camp. Currently a member of the Julliard Symphony Orchestra, he has won many competitions and awards, including first prize at the 23rd, 24th and 25th National Macedonian Clarinet competition. Lumanovski has given numerous concerts in France, Belgium, Germany, Bulgaria, Turkey and the US, and recently toured internationally with world renowned oude player Marcel Khalife.

Chris Bajmakovich, born in Chicago into a Macedonian Rom family, began playing accordion at age 5. He first professionally performed with a band at age 14, and gave solo performances in smaller venues, playing at weddings, christenings, church dances, and private parties, primarily in the large Balkan immigrant communities of Chicago. He also toured throughout the US with Macedonian singers. Bajmakovich has performed with many well-known musicians, including Ferus Mustafov, Milan Zavkov and Sasko Velkoy. He performed at VOR's 2006 International Roma Day event and has recorded several CDs.
Other participating artists:

Sani Rifati - dance performer, instructor, percussion - www.voiceofroma.com
Djordje Stijepovic - bass - MySpace
Peter Jaques - trumpet & clarinet - www.myspace.com/brassmenazeri
Dan Cantrell - accordion - www.bellowhead.com
Sean Tergid - doumbek
Edessa - www.edessamusic.com
Brass Liberation Orchestra - brassliberation.org